Held every 2 years, the NADN Advanced Training Retreat has become the most anticipated professional and social event on the calendar for experienced mediators across America. Over 3 days, the Retreat brings together renowned thought-leaders and some of the finest ADR trainers in the world to share their knowledge and experience with Academy Members. Spouses & family guests are very welcome to attend social events.
Our 2019 Retreat is to be held in Seattle at the luxurious Four Seasons Hotel, Sep 18-21. Guests check in on Wed Sep 18 with our welcome Cocktails Reception & Registration at 6pm that evening.
Our esteemed trainers for 2019 include:
Lee Jay Berman (American Institute of Mediation)
Sheila Heen (Harvard Program on Negotiation)
Doug Noll, Fresno, CA
Nina Meierding (Negotiation & Mediation Training Services)
John Salmon (Salmon & Dulberg, Miami)
Please click the brochure image to download full agenda and registration form.
This event open to NADN members only.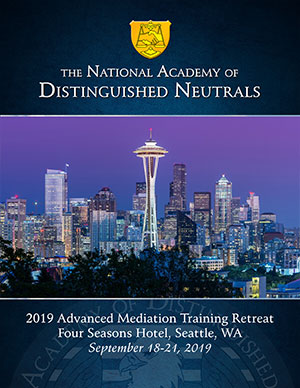 See you in Seattle this September!
Photos from our 2017 Toronto Retreat
Attendee Testimonials
"Thank you for a superbly organized and executed conference. I enjoyed every minute of it!"
Steve Certilman, New York, NY
"One of the best practical and mind-expanding learning experiences I have attended in years."
Gary Blum, Denver, CO
"I remain convinced that it just does not get any better than this in the world of dispute resolution. To have world class presenters and an audience of the most experienced neutrals in the United States creates a unique dynamic."
Will Pryor, Dallas, TX
"...I've been attending CLE's and programs for more than 40 years either as an attorney of judge, and this was amongst the very best. I look forward to a long affiliation with NADN and am proud to be a member of the Academy."
Hon. Robert Lunn, New York, NY
"A high level, deep learning experience with professionals from around the USA at the top of their game."
David Lichter, Aventura, FL
"This is the best mediation training that I have ever attended. The comprehensive simulation mediation was insightful and outstanding. This Retreat will help take my mediation to the next level of service."
Lee Hornberger, Traverse City, MI
"Just when I thought it couldn't get better, I attend my third Retreat. Great presenters, great location and amazing camaraderie! Can't wait for the next one in 2019!"
Mike Menard, Buffalo, NY
"The single best ADR course I have ever attended. Looking forward to applying newly learned tools to my mediation practice when I get back to the office!"
Ken Byrum, Bakersfield, CA
"Toronto was an excellent retreat. Top notch mediators from across the country were pleased to improve their "skill sets" with the guidance of world class speakers. A+ in all respects!"
Tracy Shaw, Nashville, TN
"The NADN Retreat is extraordinarily valuable to even the most experienced mediator. Quite simply, it's a learning experience not to be missed."
Brian Spector, Miami, FL
"By far the most useful training event I've attended, for what I do."
Hon. Larry Flesichman, Tucson, AZ
"The 2017 Retreat was superb! It made us stretch, think, really listen and focus. I found it very motivating."
Frank Hamlin, Little Rock, AR
"It was a great way to dive into more than standard ADR skills and techniques. Conversations with, and tips from, other participants was as valuable as the presentations."
Michael Spink, Boise, ID
"Every two years, this is the course I am most grateful for. The quality of the presentations is quite simply without peer."
Peter Grilli, Tampa, FL
"Great speakers who know their topics and who also have practiced what they preach."
Reagan Weaver, Raleigh, NC
"At workshops like you presented in Toronto you had a wide ranging audience in terms of experience, interests and needs and yet there was much for all. I found the presentations extremely well constructed and presented. I felt like I learned a lot to take home!"
Mike Kinney, Omaha, NE
"Advanced mediation courses that are truly advanced, and national in scope, are far and few between. I would never have learned half as much as I picked up at [the Toronto] meeting as I would from one of my local or statewide cle's. I will be back for the next one!"
Ron Wiesenthal, St. Louis, MO
"The value of this course is that it is geared to experienced mediators, and offers them opportunities to evaluate their own approaches to mediation, as well as training in different skills to use in future mediations."
Katherine Benesch, Princeton, NJ
"Very good seminar that gives mediators more tools to use to be more effective in their mediations."
Thomas Repicky, Cleverland, OH
"A different and unique approach to mediation training."
Mark Bunim, New York, NY
"Darren never disappoints in the NADN conferences. 2017 was another fabulous learning experience."
Kelly Overstreet Johnson, Tallahassee, FL
"2017 was yet another excellent training Retreat!"
Jay Fraxedas, Maitland, FL
"This continues to be the premier educational opportunity for experienced mediators."
Robin Doyle, Naples, FL
"This was the best of the best! Programs of the highest level of sophistication, analytical erudition and with a sense of humour, too. Excellent."
Hon. Deanne Wilson, Mendham, NJ
"Energizing and amazing learning experience."
Krista Gottlieb, Buffalo, NY
"Highly educational but also practical. Great contacts and connections for future reference. Very friendly and open members who were eager to interact and learn together. I'm very glad to have attended."
Jim Burghardt, Denver, CO